Tuesday, September 04, 2012
The Rasmussen Reports daily Presidential Tracking Poll for Tuesday shows Mitt Romney attracting support from 47% of voters nationwide, while President Obama earns 45% of the vote. Two percent (2%) prefer some other candidate, and five percent (5%) are undecided.
Clint Eastwood gets rave reviews from Republican voters but not so much from Democrats.  Before his speech to the Republican National Convention last week, Democrats had a generally positive view of Eastwood. However, after the 82-year old Hollywood icon made prime-time jokes at the president's expense, opinions of Eastwood among Democrats became much more negative.
Matchup results are updated daily at 9:30 a.m. Eastern (sign up for free daily e-mail update). See daily tracking history.
Scott Rasmussen's weekly newspaper column notes that the conventions "provide a stark reminder of how out of touch our political system has become."  He adds, "A half-century ago, conventions mattered because they actually selected presidential candidates. Today, they only serve to remind us that what interests — and entertains — the political class has little to do with what America needs."
Many pundits assert that undecided voters will break to the challenger. However, that view is overstated. A review of the 15,000 interviews with Likely Voters conducted during the month of August shows only a modest impact. When we push uncommitted voters and ask how they would vote if forced to make a choice today, Romney gains two points, and Obama picks up one. For the full month of August, Romney led by one point on the initial ballot question and led by two when leaners were included.
Take the Rasmussen Challenge for a chance to win a free IPad.  This week's challenge asks you to predict what percentage of American adults say they attended any outdoor concerts or theater events this summer. Last week, just under one percent (1%) of all participants predicted the precise answer from our poll. Learn more about the Rasmussen Challenge.
Swing state tracking results are updated daily for subscribers at 10:00 a.m. Eastern. Take advantage of a limited time only discount to subscribe.
(Presidential Job Approval Data Below)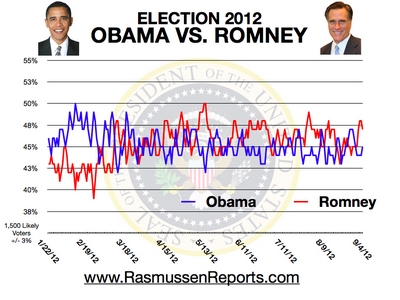 A president's job approval rating is one of the best indicators for assessing his chances of reelection. Typically, the president's job approval rating on Election Day will be close to the share of the vote he receives. Currently, 48% of voters say they at least somewhat approve of the president's job performance. Fifty-one percent (51%) at least somewhat disapprove of the job Obama is doing (see trends).
Platinum Members can see demographic details from the tracking poll and additional information updated on a daily basis.
Beginning this Saturday, Scott Rasmussen will be hosting a nationally syndicated television show, What America Thinks, on more than 60 television stations across the country. Find stations in your area. What America Thinks is a panel-driven show featuring three to six guests each week. All segments will begin with a look at public opinion on a key issue followed by a lively and informed discussion.
If you'd like Scott to speak to your organization, meeting or conference, please contact Premiere Speakers.
Rasmussen Reports is a media company whose work is followed by millions on a wide variety of platforms. In addition to the new TV show, we regularly release our results at RasmussenReports.com, through a daily email newsletter, a nationally syndicated radio news service, an online video service and a weekly newspaper column distributed by Creators Syndicate.
To get a sense of longer-term Job Approval trends for the president, Rasmussen Reports compiles our tracking data on a full month-by-month basis.
During August, the number of Republicans in the country reached the highest level ever recorded  by Rasmussen Reports. In each of the recent election cycles, the victorious party has gained in net partisan identification over the course of the election year.
You also can follow the Rasmussen Reports Electoral College Projections and the Rasmussen Reports Senate Balance of Power projections.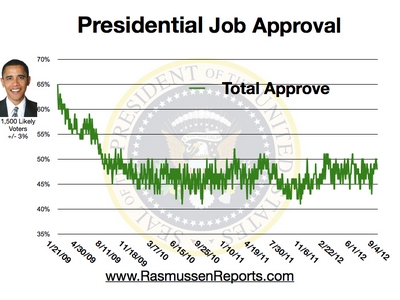 Intensity of support or opposition can have an impact on campaigns. Currently, 27% of the nation's voters Strongly Approve of the way Obama is performing as president. Forty-two percent (42%) Strongly Disapprove, giving him a Presidential Approval Index rating of -15 (see trends).
During midterm elections, intensity of support can have a tremendous impact on turnout. That was demonstrated in 2010 when Republicans and unaffiliated voters turned out in large numbers to express opposition to the Obama administration's policies. However, in presidential election years, there is a smaller impact on turnout.
(More below)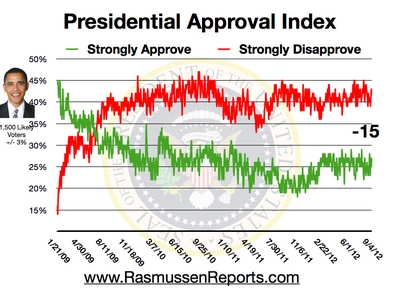 Rasmussen Reports has been a pioneer in the use of automated telephone polling techniques, but many other firms still utilize their own operator-assisted technology (see methodology). Pollsters for Presidents Jimmy Carter and Bill Clinton have cited our "unchallenged record for both integrity and accuracy." During Election 2008, Rasmussen Reports projected that Barack Obama would defeat John McCain by a 52% to 46% margin. Obama was 53% to 46%. In 2004, Rasmussen Reports was the only firm to project the vote totals for both candidates within half a percentage point. Learn more about the Rasmussen Reports track record over the years.
Daily tracking results are collected via telephone surveys of 500 likely voters per night and reported on a three-day rolling average basis. To reach those who have abandoned traditional landline telephones, Rasmussen Reports uses an online survey tool to interview randomly selected participants from a demographically diverse panel. The margin of sampling error for the full sample of 1,500 Likely Voters is +/- 3 percentage points with a 95% level of confidence. Results are also compiled on a full-week basis and crosstabs for full-week results are available for Platinum Members.